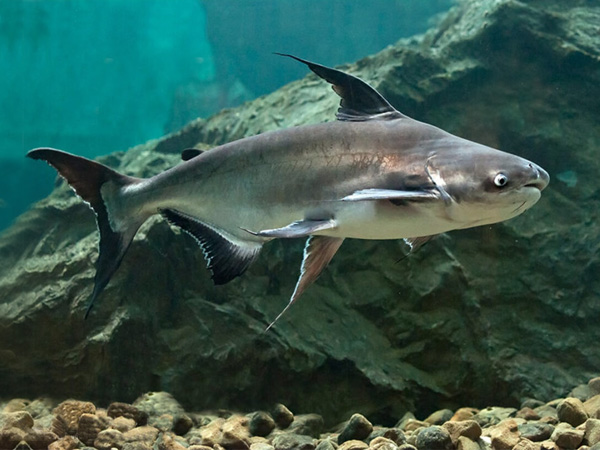 Ruler Marine: Pangasius
About Pangasius
Pangasius is a genus of medium-large to very large shark catfishes native to fresh water in South and Southeast Asia. The term "pangasius" is sometimes used to specifically refer to the commercially important basa fish, P. bocourti.
Taxonomy
In 2011, Pangasius was sixth in the National Fisheries Institute's "Top 10" list of the most consumed seafood in the United States. The Top 10 is based on the tonnage of fish sold. According to the NFI, this mild-flavored white-fleshed fish is farmed in Asia and used increasingly in foodservice. It is finding its way onto restaurant menus and into stores, as well, where one may see it called basa, tra, or swai.
Fossil Record
The single known fossil species of this genus, P. indicus, is reported from the Paleogene period of Sipang, Sumatra, either from the Eocene or the Oligocene.
Species
Recognized species which are in this genus:
Pangasius bocourti Sauvage, 1880 (basa fish)

Pangasius conchophilus Roberts & Vidthayanon, 1991

Pangasius djambal Bleeker, 1846

The standard chunk of Lorem Ipsum

Pangasius elongatus Pouyaud, Gustiano & Teugels, 2002

Pangasius humeralis Roberts, 1989

Pangasius kinabatanganensis Roberts & Vidthayanon, 1991

Pangasius krempfi Fang & Chaux, 1949

Pangasius kunyit Pouyaud, Teugels & Legendre, 1999

Pangasius larnaudii Bocourt, 1866 (spot pangasius)

Pangasius lithostoma Roberts, 1989

Pangasius macronema Bleeker, 1851

Pangasius mahakamensis Pouyaud, Gustiano & Teugels, 2002

Pangasius mekongensis Gustiano, Teugels & Pouyaud, 2003

Pangasius myanmar Roberts & Vidthayanon, 1991

Pangasius nasutus (Bleeker, 1863)

Pangasius nieuwenhuisii (Popta, 1904)

Pangasius pangasius (Hamilton, 1822) (yellowtail catfish)

Pangasius polyuranodon Bleeker, 1852

Pangasius rheophilus Pouyaud & Teugels, 2000 Pangasius sabahensis Gustiano, Teugels & Pouyaud, 2003 Pangasius sanitwongsei Smith, 1931 (giant pangasius) Pangasius silasi Dwivedi et al., 2017